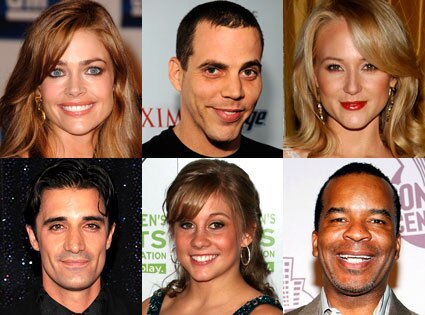 And by "crossover," I don't mean what you do with your feet during ballroom dance competitions.
This year's list of
Dancing With The Stars
dancers has been anounced. Belinda Carlisle (lead singer of
the Go-Go's
), David Alan Grier (Perhaps you know him better from
In Living Color
), singer Jewel, token athlete Shawn Johnson (Olympic gymnast), rapper Lil' Kim, Gilles Marini (the
naked dude
in the
Sex & The City
movie), cowboy and Jewel's husband Ty Murray, Jackass's Steve-O, Access Hollywood's Nancy O'Dell,
Denise Richards
, retired football player Lawrence "LT" Taylor, country singer Chuck Wicks, and
computer nerd
Steve Wozniak.
Now the casting department for ABC is doing better than past seasons, but really, are any of these people really "stars"?
I vote that this show and Kathy Griffin combine forces to form
Dancing With the Stars of the D-List
. Because if they were really stars, they wouldn't be forced to wear excessive amounts of sequins and learn the cha-cha for my mom to watch on Monday nights.